CDC as Germany´s biggest afrodiasporic dance festival is always seeking to showcase the most exclusive acts and guests. This 2022 edition is inviting a special surprise and staging an europe premier!
Straight from Kingston Jamaica, the Dancehall musical "From Den Til Now" will narrate the journey of dancehall through movements, music and words in a new afrodiasporic adaption. The dance group invited to present their work is Theatre Xpressionz from Kingston, Jamaica, led by Orville Hall, joined by dancers from Ghana and afrodiasporic dancers living in Europe.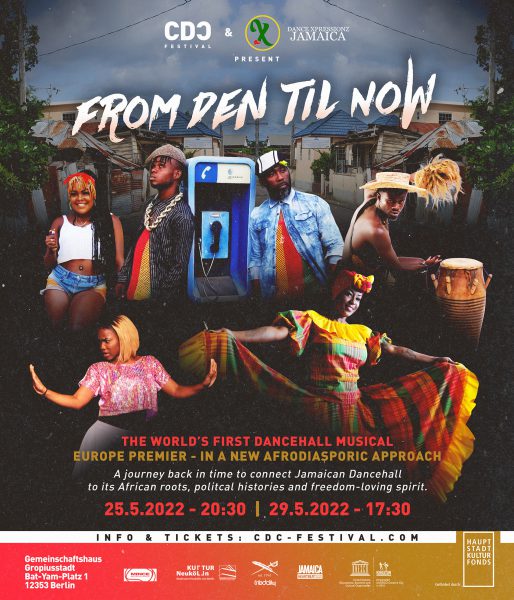 is a great Jamaican success that started in 2007 and is now recognized as the first Dancehall musical ever, with songs written exclusively for the piece and recorded by the cast itself.
Enjoy a journey back in time to connect Jamaican Dancehall to its African roots, political histories and freedom-loving spirit.
The play is presented in English and is an educational and entertaining experience for everyone over 16 years!
Regular: 18€
Reduced (under 16, specially abled, if identify as Black): 12€
School classes (school teachers please contact us): 5€ / person
If you register(ed) for a CDC Full Festival Pass one show is included!
Location
Gemeinschaftshaus Gropiusstadt, Bat-Yam-Platz 1, 12353 Berlin
Metro: U7 Lipschitzallee
Car: Navigation to Lipschitzallee 68, parking spot next to the car dealer
The venue is accessible barrier free.
Please contact us if you wish for a simultaneous sign language translation or an induction loop for the presentation!