CDC as Germany´s biggest afrodiasporic dance festival is always seeking to showcase the most exclusive acts and guests. This 2022 edition is inviting two special surprises that the festival is now proud to announce one. Straight from Kingston Jamaica, the theatre piece will narrate the journey of dancehall through movements, music and words. The dance group invited to present their work is Dance Xpressionz from Kingston, Jamaica, led by Orville Hall.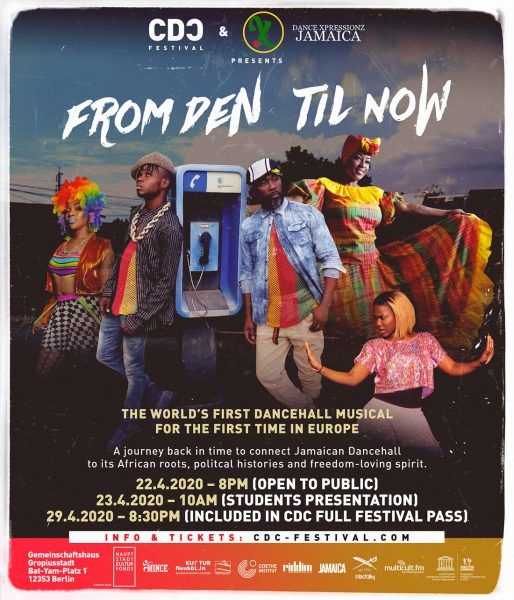 is a great Jamaican success that started in 2007 and is now recognized as the first dancehall musical ever, with songs written exclusively for the piece and recorded by the cast itself. Enjoy a journey back in time to connect Jamaican Dancehall to its African roots, political histories and freedom-loving spirit.
The dance theatre play is presented in English and is an educational and entertaining experience for young and old. 
??.??.2022 at 8 p.m.
??.??.20220 at 10 a.m.
??.??.2022 at 8.30 p.m.


Regular: 20€
Reduced (students, trainees, pensioners): 15€
School classes: 5€ / person
If you register for a CDC Full Festival Pass both plays are included!