As a permanent fixture at CDC, the conference is not to be missed!
Titled ROOTS AND ROUTES OF THE AFRICAN DIASPORA, this year's conference will feature four international guest
speakers. Through various topics they will explore the foundations and expressions of the African
diaspora across the Caribbean, Europe and West Africa.
OUR GUESTS AND THEIR TOPICS:
SHELLY "XPRESSIONZ" CALLUM (Dancer, Educator)
"Wining: healing and self-care, fertility and africanness"
CYRIELLE TAMBY (Dancer, Researcher) and
MASSINDA ZINGA (Dancer, Researcher, CEO of "MDF Label" and "Sisterhood")
"Fashion as a mode of resistance and self-love for Black identities"
MICHAEL "E-FLEX" SARPONG
"Community building through dance in Ghana"
The conference will be held on Thursday, 26.05.2022 from 8PM until 9:30 PM and is free of charge.
We look forward to seeing you there.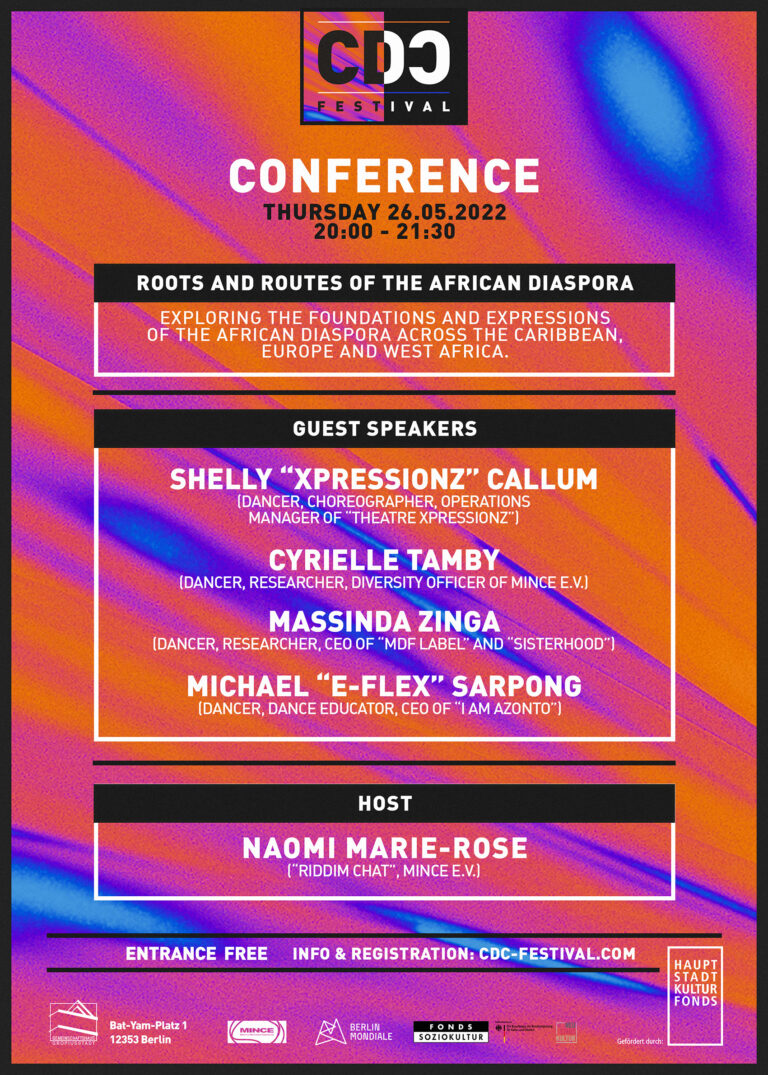 THE CONFERENCE IS FUNDED BY
Location
Gemeinschaftshaus Gropiusstadt, Bat-Yam-Platz 1, 12353 Berlin
Metro: U7 Lipschitzallee
Car: Navigation to Lipschitzallee 68, parking spot next to the car dealer
The venue is accessible barrier free.